Today, we're launching SnapStream TV Trends (http://www.snapstream.com/tvtrends/), a tool that allows you to track trends on national television here in the United States.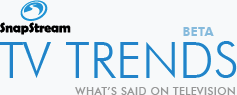 Enter a couple of keywords (up to 5) into TV Trends and you'll get a graph showing you the relative frequency of mentions of those words on mostly-news programs on ABC, CBS, NBC, FOX, MSNBC and CNN.
Here's an example comparing mentions of Twitter and Facebook on national TV: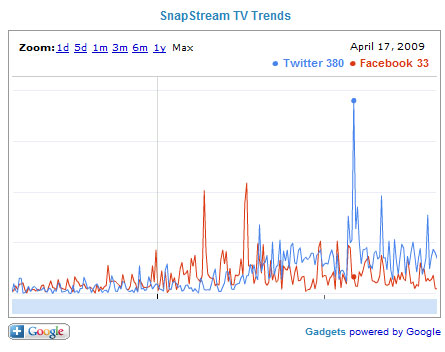 (click the "SnapStream TV Trends" link on top to see a larger more detailed version the graph) So you can see Facebook was generally getting more mentions on national TV until February or March of this year when Twitter started taking over… and since then Twitter has consistently received more TV airtime than Facebook. And what about that big spike for twitter in mid-April? That was the whole Twitter/Oprah/Ashton Kutcher thing. Here's a comparison of mentions of tech giants Apple, Google, Microsoft and Yahoo on traditional TV: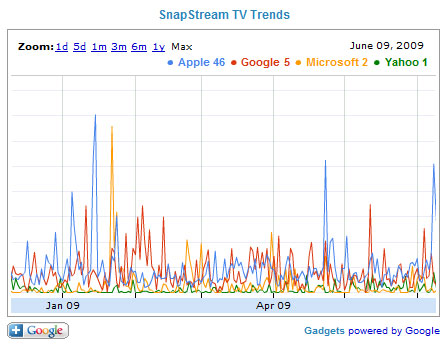 And the word 'yes' vs. the word 'no'?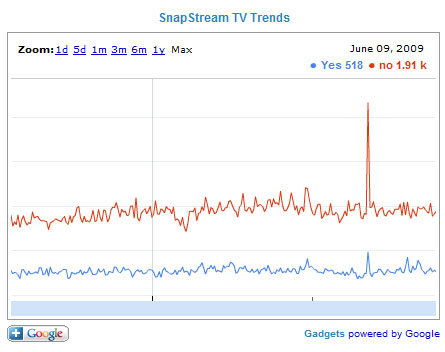 TV Trends graphs can be embedded into your website or blog using the simple embed code underneath the graph or you can link to graphs by just copying the URL from your browser's address bar. And on the TV Trends site, you can view excerpts of stories at selected points along the curve and you can filter the results by network (chart mentions of "Obama" on Fox or MSNBC) and by genre (show me mentions of "Obama" on comedy programs).
Another feature of TV Trends are hot and cold words… These are the top ascending (hot) and descending (cold) words on national television. For example, as I write this blog post, the top rising terms, the top hot words, are "north korea" and "two american journalists" — references to the two American journalists that have been sentenced to hard labor in North Korea.
While many types of analytics are available for other media (see Compete, Alexa, Trendrr) until now, there hasn't been a way to track and analyze what's being said on traditional television. TV Trends attempts to offer some insight into the world of traditional "offline" television…
And behind the scenes, SnapStream TV Trends is powered by SnapStream's TV recording and search technology. SnapStream's TV search technology allows organizations to record LOTS of TV and then search inside those TV shows for mentions of their city government, "breaking news" on a competitive local TV station, an elected official, a natural disaster or anything else anyone might be looking for on TV. You can think of it like a cross between a DVR on steroids (one SnapStream Server can record 10 TV shows at a time) and a search engine. This technology powers TV trends and it's behind TV monitoring at organizations such as E!'s The Soup, XM Radio, NBC, Current TV, the U.S. Senate, University of Southern California, University of Texas, City of Austin, and the City of Chicago. If you use a clipping service or, worse, a bank of VCRs or DVRs, to keep track of what's being said on TV about your brand or whatever, you should give SnapStream Enterprise a look.
So try out TV Trends and let us know what you think! Post your questions and feedback here in the comments or on twitter (we're at @snapstream).