We announced Current TV as a SnapStream customer earlier today (press release copied below).
If you've never watched Infomania, it's a look back on the week in media, similar in form to The Soup on E! and Best Week Ever on VH1/MTV (both shows that also run off of our TV search technology).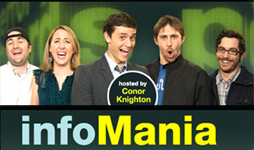 One of the segments that Infomania does that I'm a big fan of is "Target Women" with Sarah Haskins. Hilarious stuff.
The press release:
Current TV and infoMania Install SnapStream, Replace "Messy" DVR Setup

Houston, TX (PRWEB) February 10, 2010 — SnapStream Media, Inc., announced today that infoMania, the half-hour satirical news show that airs on Current TV, has installed a six-tuner SnapStream Server to record, search, and grab video clips for usage in their weekly commentary. Launched in 2007, the SnapStream Server is a turn-key television search appliance that enables organizations to record and store thousands of hours of television and then search inside those recordings by keywords and phrases.
Each week, the infoMania crew strives to put a humorous spin on media trends, routinely using video clips from TV and the Web to illustrate jokes. When the show debuted in 2008, staffers were doing a lot of extra work to track down footage.
Current now uses SnapStream to make infoMania. SnapStream's technology allows infoMania to record six shows simultaneously and store hundreds of hours of television. Its producers can then quickly locate the desired footage by keyword. The biggest gain, says global senior broadcast engineer Dave Simon, is the ability to find content fast. "SnapStream was the first system we looked at that had the ability to record and search closed-captioning," Simon says. "To a television operation like infoMania, that is paramount."
In addition, Current Media, the corporation that owns and produces infoMania, has installed a second SnapStream Server for media monitoring in their San Francisco office.
"Their selection of SnapStream to not only produce infoMania, but also to monitor media mentions of the company itself, as well as create content for their corporate video and news feeds, speaks volumes about the power and capabilities behind the SnapStream Server solution," said Rakesh Agrawal, SnapStream's CEO and Founder.
Visit the http://www.snapstream.com/ website to learn more about SnapStream's affordable and effective TV search technology – our turn-key TV search appliances starting at $2,000.
About SnapStream Media, Inc.
SnapStream allows organizations to put their finger on the pulse of traditional television. Customers can record a virtually unlimited number of TV shows from satellite, cable or antenna and then search inside those TV shows to pinpoint television content of interest. Existing customers include government organizations, such as the U.S. Senate and the City of New York, to educational institutions at the university and K-12 level to entertainment organizations such as Comcast Entertainment, Current TV, and MTV.