Anaheim is the home of Disney Land, nestled in California's vibrant metropolis of Orange County. With over 3 million people residing in the O.C. and the constant influx of tourists, the Anaheim Police Department works diligently to keep citizens safe, informed and protected.
Sergeant Rick Martinez and Sergeant Tim Schmidt, the primary PIOs at Anaheim PD, have deeply integrated and ingrained SnapStream into their everyday line of duty. From talking with Sgt. Martinez and Sgt. Schmidt during our PIO webinar on June 3, we learned about their applications of the SnapStream Server. And to our delight, we discovered there's much more than meets the eye.
At the core, Anaheim relies on SnapStream chiefly to search across TV and to create clips for archival references. But interestingly enough, the police department is also capturing video evidence from news broadcasts and deploying it to support criminal investigations. You wouldn't believe the number of witnesses who divulge information to the news media, when instead they should be reporting valuable tips to the police department.
" We're now gathering evidence that we were not necessarily getting before. We're more efficient because of that [TV search]. "
– Sgt. Tim Schmidt, PIO, Anaheim PD
In any case, Anaheim PD can now masterfully rope in testimonies, some with dead-on implicating statements, from television news sources, and in turn, utilize these broadcasts in court. Sgt. Schmidt says that the inherent value of a news clip has extremely powerful conviction playing before a jury.
So now, we are helping police departments do more than monitor media because: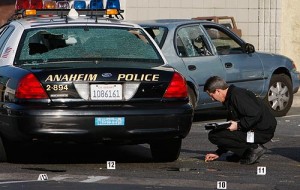 They know about evidence that otherwise, they wouldn't be aware of, if it weren't for the channeled pulse of TV search.
They can avoid issuing subpoenas to new stations, which slows down the progress of a case while it's hot. (And forget about paying for clipping services.)
Catch this snippet of insight from Anaheim. For the whole story, the full-length Anaheim webinar is available on our YouTube channel.