Industry Spotlight: Using TV to Enhance Curriculum in K-12 Schools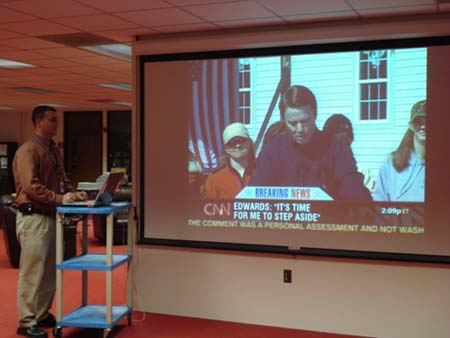 Educators use television in the classroom to reinforce and expand on material being taught, increase student interest in learning and better address a variety of learning styles. The SnapStream Server puts TV in every classroom without having to wire each room with cable or supply each classroom with DVRs, VCRs and TVs. SnapStream TV search technology gives teachers the ability to search within TV recordings and pinpoint content of interest; then clip that content and download it, stream it right to the classroom, quickly and easily. Most importantly, teachers do not have to wait and rely on other people to do it for them.
As an example, let's say you're doing a lesson plan on Obama. You can simply type in "Obama" and SnapStream will bring up a list of TV programs where his name was mentioned. You can even have an email alert sent to you notifying you of mentions of whatever it is you're looking for. Read more about SnapStream email alerts.
With SnapStream, administrators can easily control who can access the server and what features they have access to. For example, administrators can manage permissions based on user groups – e.g., teachers might have permission to schedule and record, but not delete, programming – eliminating the possibility of accidentally deleting another teacher's programs. SnapStream makes it easy to bring TV into the classroom.
Recently, Forsyth County School district incorporated SnapStream into their classrooms. Director of Technology Services for Forsyth, Mark Klingler noted, "Its simple easy-to-use interface gives teachers the ability to record and search straight from their desks." Read more about how Forsyth County K-12 schools are using SnapStream .