New SnapStream 6.3! Intelligent Auto-Clip and Auto-Share to the Cloud

What's New in SnapStream 6.3?
Automatic Clipping and Sharing to the Cloud
SnapStream already makes it easy as pie to search for, review and create TV clips, especially with the efficient clip-and-share feature we introduced in 6.2. But we thought, "Hey, how can we make clipping and sharing even more awesome for our awesome users?"
In new SnapStream 6.3, we re-imagined the manual process of creating and sharing clips and made it automated. (Or as we like to say, awesomated!) Here's how it works:
Our new auto-clip technology intelligently detects topic changes and commercial breaks, using various algorithms and linguistic cues, and as a result, it clips out relevant TV segments just for you. Clips are no greater than 15 minutes in length and they're designed to provide lead-in and lead-out context about the topic at hand.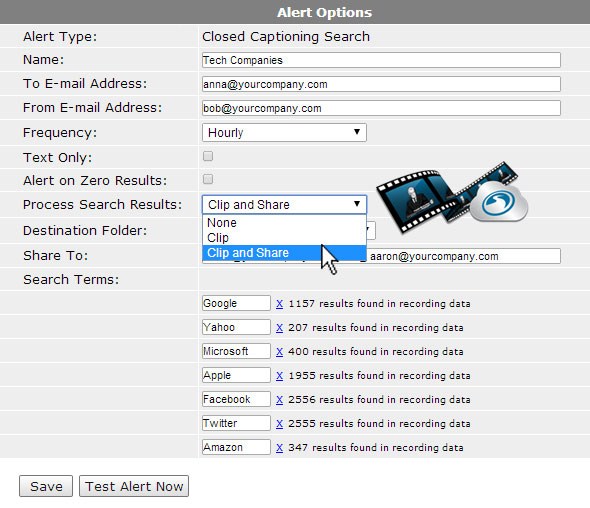 How does SnapStream know what topics to clip out? Simple, it's based on your keywords in TV Alerts. So when you receive your TV Alert email (daily, hourly, in real-time, etc.), the summary of media mentions and transcript excerpts will also include auto-clips! Isn't that nifty? We know this is going to be a huge time-saver, shifting your workflow from manual to automatic.
The auto-clipped content can be played in two ways: 1) from your SnapStream or 2) with auto-sharing enabled. With auto-sharing, the clips will get transported to the cloud, which is ideal for a couple of reasons. It's far more convenient for monitoring TV on-the-go and it also makes the content accessible to people outside your local group or who aren't SnapStream users.
Of course, regular clip-and-share is here to stay, for those instances where you need to make a clip on something unexpected or out of the norm. But for the routine topics you're following every day, sit back and let SnapStream's auto-clip and auto-share do the rest!
Social TV Integration with Twitter
TV has always been a shared experience, and with social media like Twitter, viewers are having interactive, real-time conversations that extend way beyond the living room. In 2013, 1 billion tweets circulated around TV broadcasts in the U.S., according to Nielsen SocialGuide. Talk about a hyper-engaged "second-screen" TV audience! Wouldn't you like to maximize engagement with your audience across Twitter?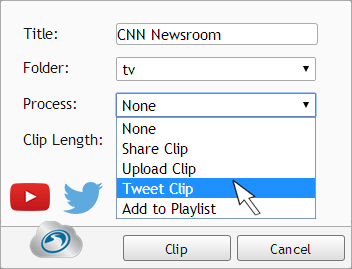 SnapStream's new Twitter integration enables broadcast networks and TV shows to amplify engagement by clipping and sharing the excitement of TV, with only a few clicks. It's seamless, quick and easy to create high-quality clips from any of your TV shows and tweet them out directly from SnapStream. Tweeted clips appear with a Twitter Player Card to deliver the richest media experience, which in turn, stimulates social engagement. Plus, you can integrate multiple Twitter accounts, leveraging your permission settings for added control.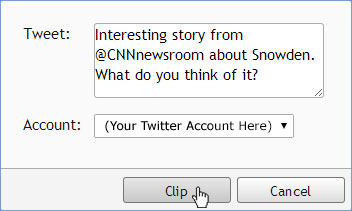 In the future, more social TV features are coming to SnapStream. Interested in features like this or have social media folks who are? Email us at [email protected].
New SnapStream IPTV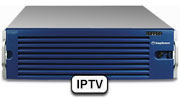 SnapStream is branching out to support more and more types of inputs, so you can ingest TV content from a greater variety of sources. New SnapStream IPTV lets you ingest and record several IP Streams simultaneously in UDP multicast and archive up to 36 TB of content. We're adding more IP stream types in future software revisions, so let us know at [email protected] if you're interested!
New SnapStream Hardware and ShowSqueeze Node
The newest generation of SnapStream hardware has superior storage and processing capabilities. The storage limits are increased to 36TB on a single SnapStream, which equates to about 40,800 hours in SD and 5,580 hours in HD. Plus, the combination of the newly enhanced ShowSqueeze Node and software optimization in 6.3 yields great improvements in simultaneous transcoding and shorter compression times. You can perform up to 10 SD real-time transcodes simultaneously and up to 8 in HD. Look at the marked difference between the new and old hardware, running 6.3 vs. 6.2: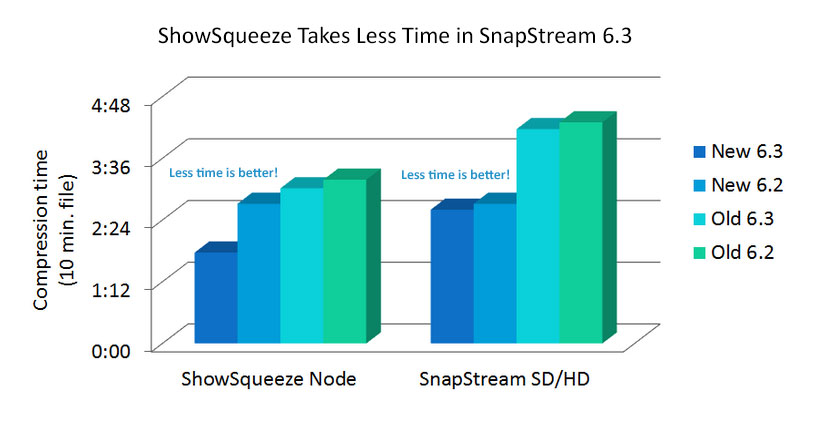 Click graph to enlarge.
Interface Enhancements
Last, but not least, SnapStream 6.3 introduces a slew of new, useful additions to the user interface:
Use the new Search Tab in the Web Player to search within a TV show you're watching.
While watching a TV show, use the expanded options in the Actions Tab to: Run a Worfklow, ShowSqueeze, SmartChapter, Add to Playlist and more.
In lieu of clips, add segments to your TV playlists. Segments are essentially time-stamped portions of your original recording.
Change the channel when watching live TV.
Manage conflicted recordings with greater ease from the EPG (Electronic Program Guide.)
Schedule manual recordings from the EPG (even without guide data.)
Ready to see SnapStream 6.3 in action?
Webinar: What's New in 6.3?
For: Organizations interested in SnapStream
Tuesday, June 10 at 4 p.m. EDT
Sign up for June 10
Wednesday, June 11 at 12 p.m. EDT
Sign up for June 11
How can I upgrade to 6.3?
For current customers: To schedule your free upgrade* to 6.3, contact SnapStream's support team via the Enterprise Support Form or via email at [email protected].
For new users: Contact one of our Sales Engineers to start the conversation about your TV monitoring needs. Email: [email protected]. Phone: 1-877-762-7787
*All software upgrades are free for current SnapStream customers who have a valid support contract and meet the hardware pre-requisites.
*UPDATE*
In case you missed it, watch the SnapStream 6.3 Webinar and Demo here: