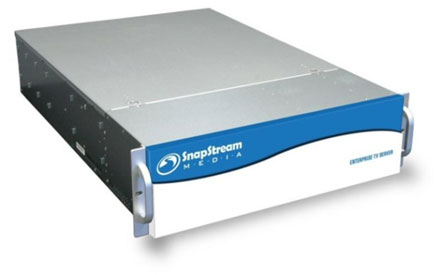 If you haven't realized it yet HDTV is no longer the wave of the future, it's the present. The recent digital conversion has made HDTV stations more prevalent and in turn propelled HDTV sales. It's become obvious that folks have come to value high quality TV, whether it's for personal at home viewing or presenting media mentions of your company in a board room. With the launch of the SnapStream Server HD, we're making it easy for you to record the highest possible quality TV and use SnapStream's powerful search technology to search within those recordings to pinpoint mentions of interest.
Anyone interested in showcasing their television recordings/clips in the highest quality will benefit from the SnapStream Server HD. Perhaps, you're a TV Station who just switched to broadcasting in HD and you need an HD aircheck solution, or you're a PR Director and want to present you company's TV mentions to your constituents/investors/shareholders/board members at the highest quality, or maybe you're a producer of a TV show like E!'s The Soup or VH1's Best Week Ever and you want to include HD clips into your program, whatever your case is the SnapStream Server HD makes it so you can easily get the best quality TV recordings.
How do I incorporate HD into my existing workflow?
1) First you will need an HD Source. It could be an ATSC (over-the-air) HD signal or a clear QAM signal from your cable/satellite provider or a signal from your own in-house QAM modulation solution.
2) Feed the source into the SnapStream Server HD. There are five input cards, so you can record up to five channels at a time.
3) Run SnapStream's client software on PCs within your organization. The software user interface looks and feels like a DVR allowing for an easy implementation process.
4) Once you've done the above you can start recording, searching and clipping HD TV.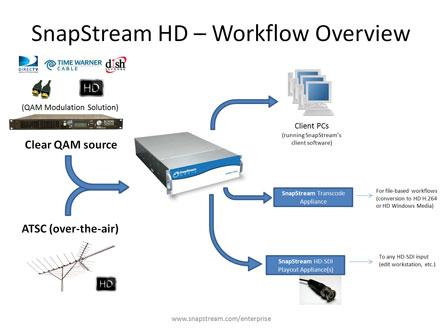 Now that you have the basic setup for recording and searching HD TV you can take it a step further by importing clips into an editing workstation. We've come up with two viable options to accomplish this task. You can either set up the SnapStream Transcode Appliance and create a file-based workflow or you can use the SnapStream HD-SDI Playout Appliance.
File Based Workflow:
In a file based workflow the SnapStream Transcode Appliance can be used to automatically convert your transport stream files to HD H.264 (works really well with Apple's Final Cut Pro) or HD Windows Media files. Once the files have been transcoded into the preferred format they are ready for importing into the editing workstation.
HD-SDI Workflow:
In an HD-SDI workflow the SnapStream HD-SDI Playout Appliance allows you to ingest SnapStream recorded content (clips or full recordings) into SDI enabled products within your environment. For example a workstation running Avid or Apple's Final Cut Pro that has an SDI input card that's connected to your HD-SDI router.
The SnapStream HD-SDI Playout Appliance is a separate appliance that you can connect to using the LAN. The user interface is web based and shows you a list of recordings/clips you've created using the SnapStream Server HD. By clicking the play button next to the show you can start the playback of your clip to the HD-SDI Playout Appliance. If you have a couple of clips you can create a playlist and que them all up at once, so you don't have to keep clicking play for each one. As a side benefit when you import the playlist into the workstation it comes through as one video file instead of multiple ones making it easier to edit.
Either of these workflows work well with the SnapStream Server HD. Which you choose really just depends on your preference.
What are the benefits of the SnapStream Server HD?
Recording: It can record ATSC (over-the-air) HD or a clear QAM signal from your cable/satellite provider or your own in-house QAM modulation solution.
Setting up Recordings: It's a single centralized server for recordings. Accessible to everyone in the organization over the LAN.
Searching: It's equipped with SnapStream's search technology so you can efficiently pinpoint TV clips of interest.
Creating Clips: Recordings can be clipped directly from within SnapStream making for easy hand-offs from within the organization. No more sneakernet!
Sharing: Clips can be emailed to anyone or sent as links to others within the organization. No more dubbing beta tapes!
HD/SDI Ingest or File Transcode: Playout to HD-SDI via web-based interface ensures high-quality (HD) final output.
Archiving: Added storage gives you flexibility in creating a fully stocked archive (40 Raw TB).
Want to learn more about the SnapStream Server HD? Contact a sales representative via [email protected] or 1-877-SNAPSTREAM to schedule a product demonstration.