Will you be at NAB April 16-19? 'Cause we will! We're very excited to show you all that's new with SnapStream's TV search technology. In the last year, we rolled out six new releases, featuring these heavyweights:
– New! Web Player for Mac and PC
– New! Task Rules
In South Upper Hall SU9115, SnapStream's new Mac and PC Web Players will go head-to-head in a series of hands-on demonstrations. Don't miss this epic NAB showdown. You'll definitely want a front-row seat, so…
Schedule a SnapStream demo at NAB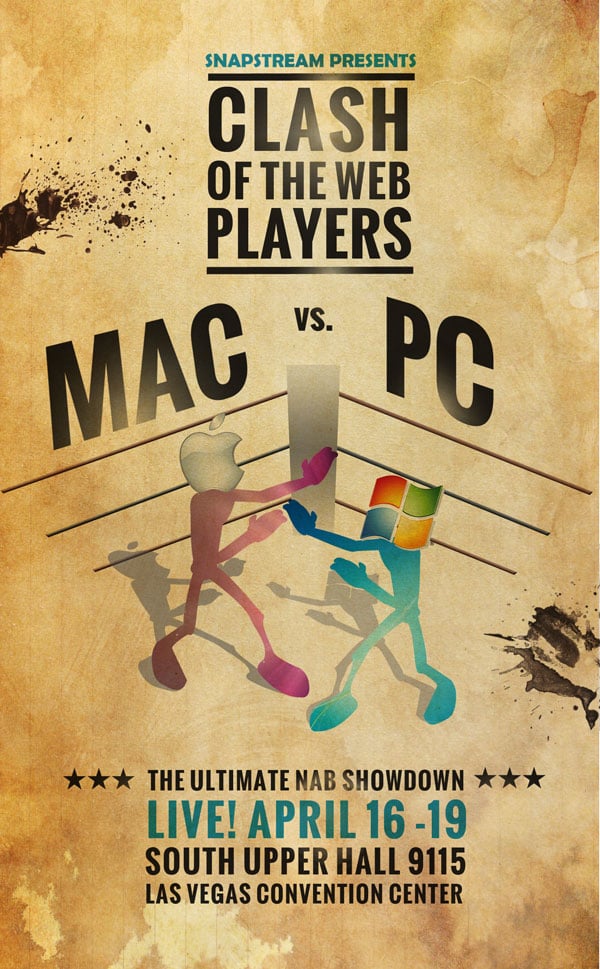 Search Everything on TV
As a refresher on our technology, you can find anything said on TV with SnapStream: the TV monitoring engine that powers The Daily Show with Jon Stewart, The Colbert Report and The Soup. They love it because you can record, search, archive, clip and transcode unlimited TV content, right from your Mac or PC. And unlike other TV monitoring solutions, SnapStream puts you in command of operations. You own the hardware and you control the TV recordings, so it's all on your own terms.
Record TV

Think of SnapStream as a DVR on steroids. Record as few as four or as many as 100 TV channels at the same time while rubbing your belly, patting the top of your head and standing on one foot.

Endless Archival

With SnapStream's clustering technology, you can archive TV for months and years on end. Channels and storage are limitless, so you can monitor more and more TV over time.

Transcode TV

Leave it to ShowSqueeze to pump out those beefy post-processing tasks. Transcode TV to H.264 or WMV, with plenty of knobs to gear up individualized, custom workflows.

Make TV Clips

SnapStream lets you make TV clips and share them with the world. No fancy editing skills required. Drag your start and end points—then presto—a clip is born!

Play out SDI

In real time, play out recorded TV content to your favorite editing suites with our HD-SDI Playout Node, which connects to your SnapStream SD or HD.

TV Alerts

Follow TV in near real time with TV Alerts. We'll send you an email with TV search results, linking to where and when your favorite keywords appeared on TV.