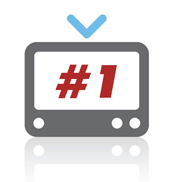 It's traditional television, according to a study that the Pew Research released earlier this month.
In the line-up of 'where people get their news', traditional television took the #1 and #2 spots (specifically, #1 went to 'local TV stations' and #2 went to 'national TV network') followed by the Internet. (read the link above for more details)
We talk to people all the time who can easily (or easily enough) use things like Google Alerts to track what's being said online but tracking what's being said on traditional television is more difficult.
And that's where SnapStream's TV search appliance and our TV Trends services come in. We make it easier to for organizations to track what's being said on traditional television.
With our TV search appliance, you can do searches across traditional television, quickly browse the video search results, create and email clips, and burn DVDs.
And with TV Trends, we record national TV news (ABC, CBS, NBC, FOX, MSNBC and CNN) and make it so you can view trends.