May 2023
How Canada's longest-running comedy show uses clips to create laughs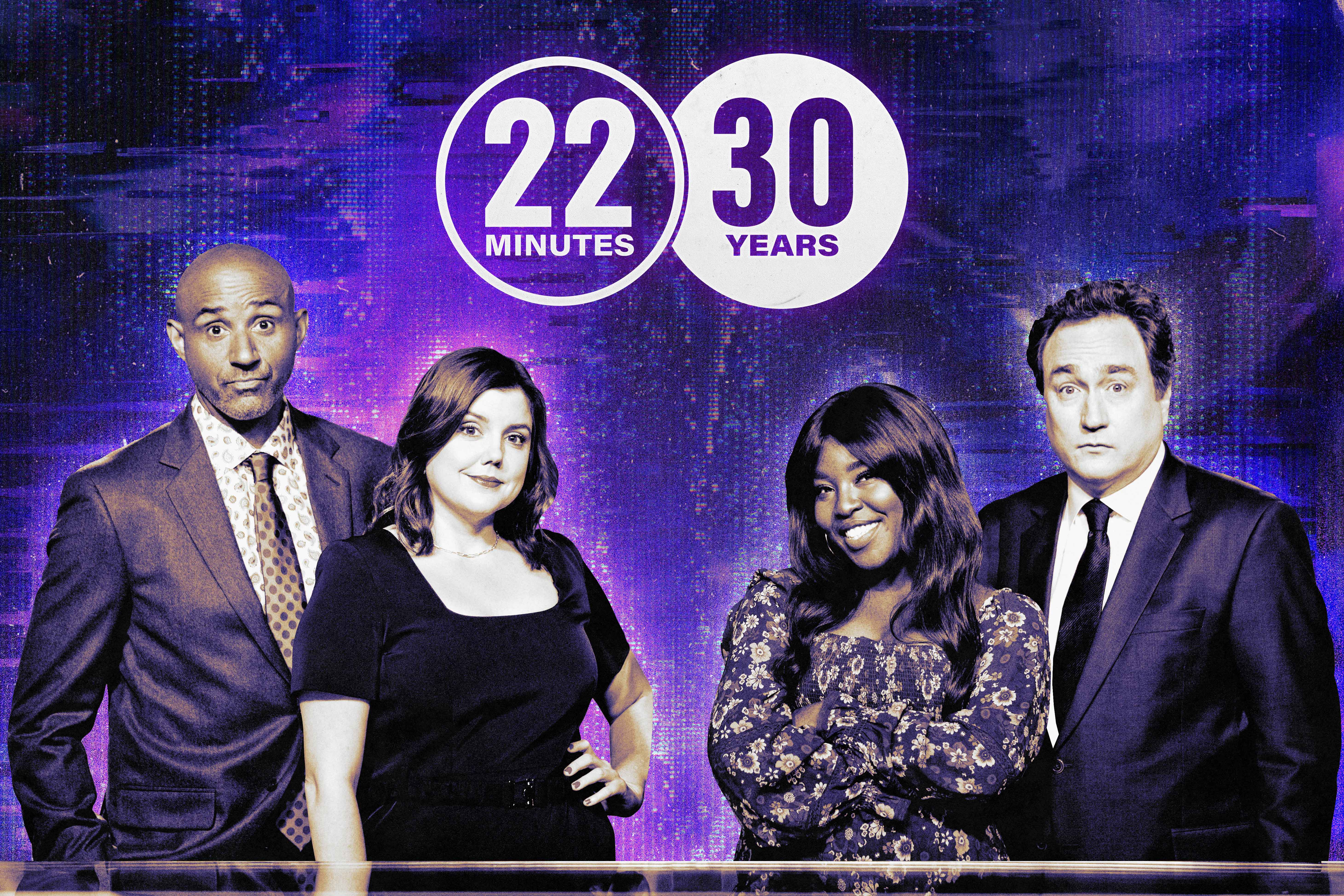 Imagine if you combined Saturday Night Live with The Daily Show and put it in Canada. The result is This Hour Has 22 Minutes, a weekly half-hour show aptly named for each episode's runtime minus commercial breaks.
While the show may not be familiar to U.S. audiences, it's somewhat of a cultural touchstone in Canada. The iconic 30-year-old program airing on Canada's national broadcaster, CBC, holds the title of Canada's longest-running comedy and has won several Canadian Comedy awards. Its cast members and correspondents over the years have become household names in Canada, including Rick Mercer, Colin Mochrie and Nathan Fielder.
22 Minutes pokes fun at news and society in Canada and around the world through a blend of sketch comedy, parodies, humorous political commentaries and satirical newscasts. While the sketches are pre-produced over the week, a significant portion of the show is shot live-to-tape in front of a studio audience in Halifax, Nova Scotia. Those "desk" segments are driven by news clips, which are sprinkled throughout to tell stories and set up jokes and commentary.
Showrunner and executive producer Mike Alison, head writer Jordan Foisy and head researcher/producer Jessica Brown sat down with SnapStream to walk through how the cloud-based recording and clipping software is used to save them invaluable time and resources in finding newsworthy sound bites for each show.
Mining and creating hilarious moments with ease
The 22 Minutes team records major news channels from both Canada and the U.S in SnapStream, and also sometimes rolls on Canadian parliamentary hearings. While they have access to CBC News material in house, "the easiest way to find those clips is on SnapStream." says Alison. "Sometimes I'll go home and rather than turn on the news (on my television), I'll open up SnapStream, because that way if I see something, I can just snap it."
"It's almost like research," says Foisy, who moonlights as a stand-up comedian. "If I'm looking for something funny about the Prime Minister and I know there's a press conference, I'll just use the search bar, type Trudeau and skim through the transcript to look for something funny."
Once a clip is identified, Alison details how they use it as a building block to create a humorous moment for the audience. "If we're talking about a story and then a politician might have weighed in on it, it's great when you can be telling the story and then say 'okay, of course this idiot had to weigh in'… To me, the package of a clip with this funny setup and a good encapsulating joke at the end… that's a moment to me."
While the show will typically use three to five clips each episode, sometimes they'll string together as many as 18 clips together for a supercut. "If they're using the same talking points all the time, right now the one they're saying a lot is 'transparency in sunlight," said Foisy on how he uses SnapStream. "I'll search sunlight, and then there'll be all these different clips that I can use and I'll let Jessica (Brown) know, 'hey, I need all these in one big hilarious package.'"
Once the writers select what clips they want, Brown takes it from there. "I then send it through our server systems so editors can get the full-resolution versions," she explains. From there, the clips are edited and sent to the control room, where they are played out during the show taping.
SnapStream saves "incalculable" time and resources for show producers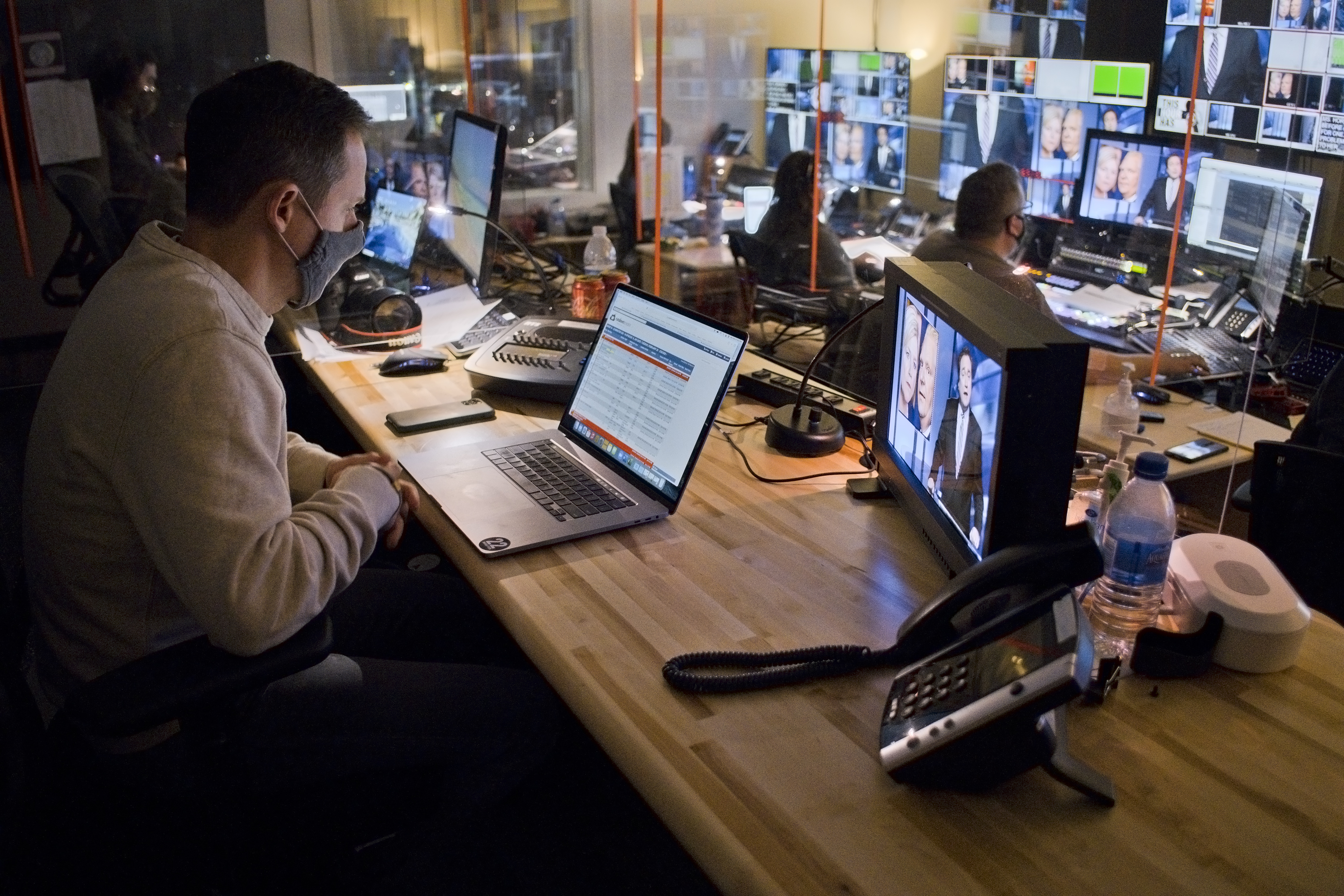 Executive Producer and Showrunner Mike Alison is pictured during a taping of This Hour Has 22 Minutes"at their studio in Halifax, Nova Scotia.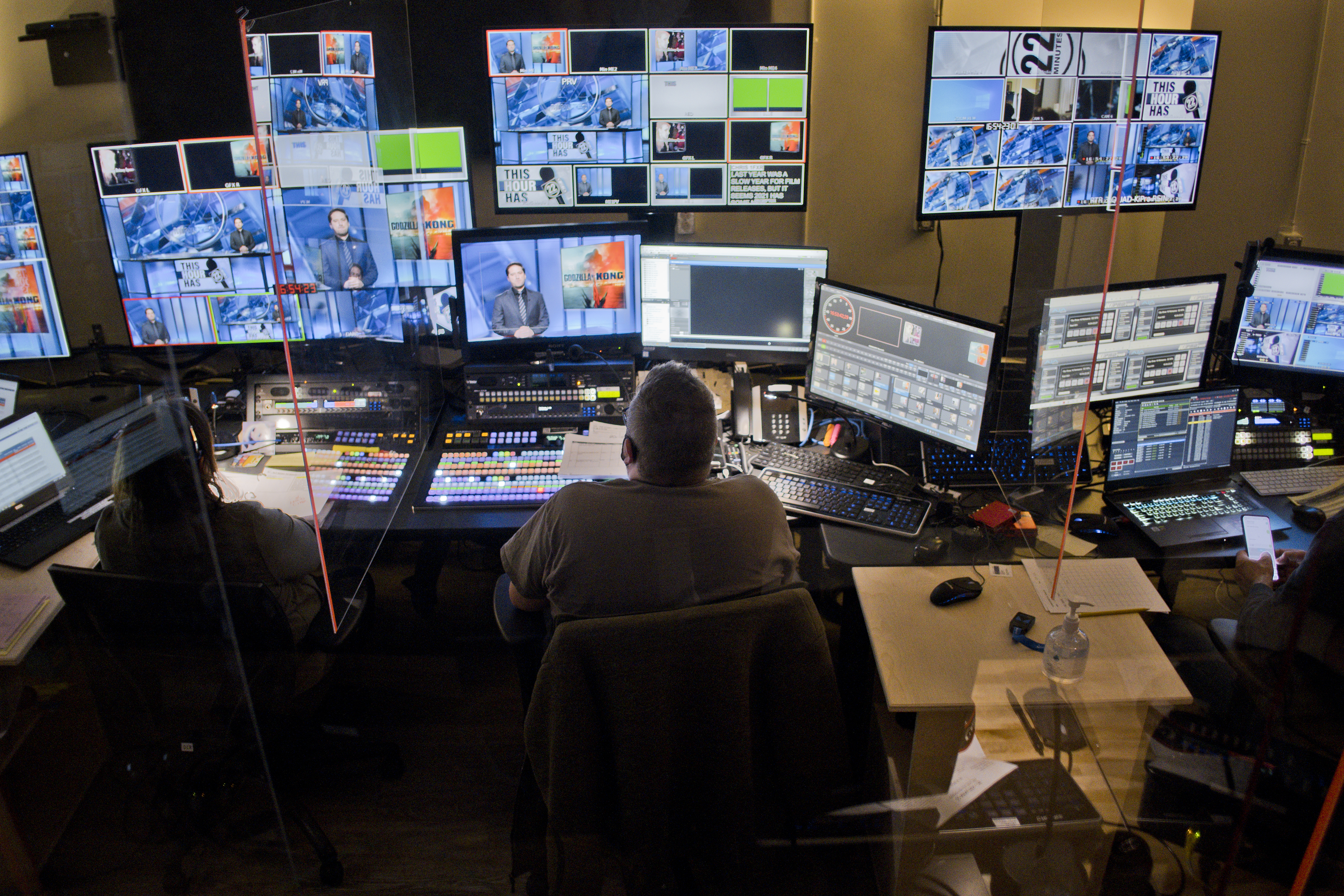 This Hour has 22 Minutes production staff work in the control room during a show taping.
The team behind This Hour Has 22 Minutes has used SnapStream for six years. Alison, who joined the show as a writer in 2009 before working his way up to showrunner, illustrates how the process of selecting clips was a much longer and exhausting process before adopting SnapStream.
"Somebody's job was to watch all of the pertinent things that were happening that week, whether it's the question period in the House of Commons or an interview with the Prime Minister or a presser by somebody, and transcribe them. They'd come up to the writer's room with like eight or ten copies and we would read them. Then we have to scroll through a tape from the network. And then we'd be like, 'oh, the joke that we wanted to make doesn't work because the person who was speaking wasn't on the screen at the moment.'
"So being able to just see and take what you get in search…" Foisy then chimes in to complete Alison's sentence about SnapStream, "it's invaluable."
As a show researcher, Brown says the amount of time and resources saved with SnapStream is "incalculable," recalling a similar long process when she was looking for a short soundbite, "Before we had SnapStream, I would be trying to get clips from the CBC archives, I'd have to scrub through everything and watch everything to catch a two second moment. Whereas with SnapStream it's like, 'oh that's where he said it, I found it, perfect.' So it really does streamline that process."
"I just think it's cool that we're using the same technology that Stephen Colbert was using on the Colbert Report," says Alison, referring to The Colbert Report's use of SnapStream. "It's neat to be playing in that same world at such a different scale... But I think we do a great job of finding those few moments of the week that really fit what we're trying to do with the show."
Ready to make moments?
Since using Snapstream, The award-winninng production team behind This Hour Has 22 Minutes has saved countless time and resources identifying and bringing news clips into their show, creating hilarious and thought provoking moments for audiences.
To truly harness the power of moments your organization needs a strategy. Connect with us and let us help.