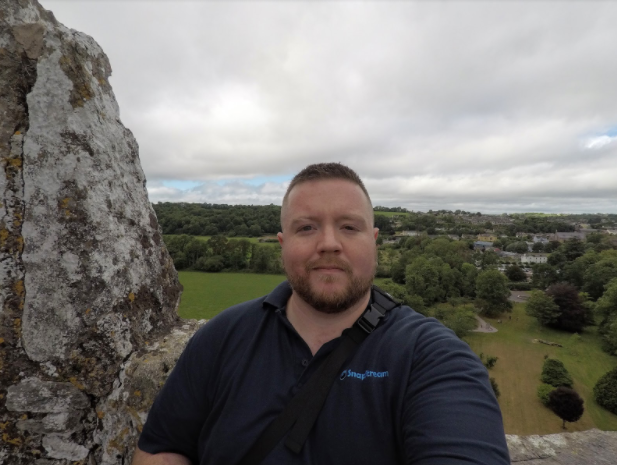 Gerard visited the battlements of Blarney Castle during his vacation in Ireland!
Y'all know what day it is: Feature Friday! Meet our expert bug catcher Gerard:
How did you find SnapStream?
I found SnapStream through Indeed.com. The job listing was very effective at portraying the company as a geek-friendly environment with a great culture. Working on a product that records television was an interesting choice. Many of my college friends ended up working on bill collecting software.
What is your role here?
I'm a Developer-in-test, or a developer that works on the Quality Assurance team. I'm responsible for writing and maintaining various suites of automated tests, writing internal tools, and testing some of the more technical improvements that end up in our queue. It's my job to make the lives of the blackbox testers easier by catching bugs before they do, and coming up with improvements to our workflow to save time.
How have you grown with SnapStream?
I came to SnapStream knowing how to "code". I've grown to understand more about what it means to develop and maintain a solution. I've been exposed to so many new challenges like learning how to build and maintain a cable plant or how to automate user interaction with a page streaming live video. My favorite memories working at SnapStream are those when I finally get to the bottom of a problem I've been banging my head against.
What is your favorite thing about SnapStream?
The atmosphere and culture is my favorite thing about SnapStream. It's a friendly and relaxed atmosphere. Between that and working on interesting products, I'd say that we have it pretty good here.
What do you like to do when you aren't at SnapStream?
I'm a PC gamer. I love to build my own gaming PCs and sink 100 hours into open world RPGs. I'm also very interested in travel.