NOTE – SnapStream Express was discontinued in 2018.
For an updated list of our latest offerings visit www.snapstream.com

Meet the SnapStream Express. It's the smallest SnapStream appliance ever. You get all the power of SnapStream's TV recording, search and Twitter and Facebook integration, in a compact, affordable package.
SnapStream Express paves the way for more users to get their hands on SnapStream. Everyone can record and search TV like "The Daily Show" and "Last Week Tonight." Be it a single TV show with a social media initiative, a TV-focused journalist, or any organization using DVRs or TiVos.
New!

SnapStream Express

SnapStream Express is now available with free U.S. shipping. Get yours at snapstream.com/express: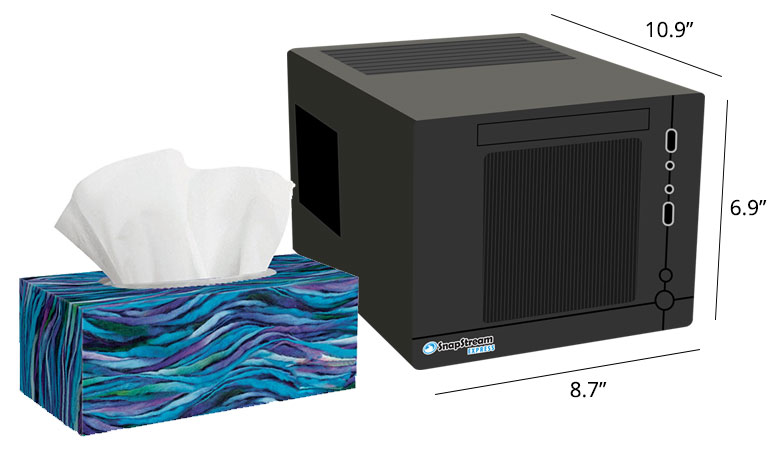 • Record 2 TV channels in SD or HD
• Up to 2,076 hours (SD) or 346 hours (HD) with 2TB
• SnapStream's TV search & social TV features*
• Share unlimited clips in the cloud
• Regular software & program guide updates
• Full-service technical support & user training
We got an awesome write-up about the SnapStream Express launch on Ars Technica. And oh, here's a #BananaForScale, to show the svelte form factor of SnapStream Express.
We're happy to consult on the best SnapStream option for you. Drop us a line at [email protected] or 1-877-762-7787.
*SnapStream Express has the same feature set as the Small Business Edition. This includes capabilities like TV recording, search, unlimited clips, cloud sharing, file export, social media integration and more. This excludes SmartChapters and Clustering, and limits ShowSqueeze to clips only. Maximum of 5 user licenses.